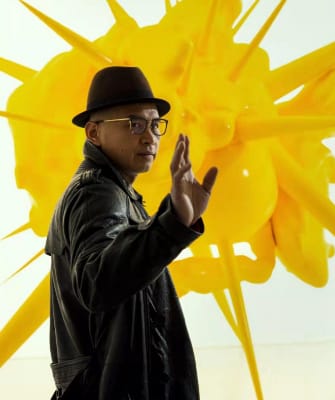 Chen Wenling
The theme of Gangwon Triennale 2021 is 'Warm Revitalization'. If there is any part of your participated artwork that fits these themes, please explain in detail focusing on your artwork.

My large-scale Chinese chatacters , Red and Black, is line with the theme 'Warm Revitalization' in the way of its mood, gesture, form and concept it expresses. The relationship between these two words is a kind of confrontation and integration, that is both Chinese characteristics and international, traditonal and contemporary.

Today, when non-face-to-face has become common due to COVID-19, the reality is that exhibition activities are greatly reduced. What kind of artistic activities have you been engaged in under these circumstances?

Due to the COVID-19, online display has become a normal situation. we, in positive attitude, show our love for the world through the Internet. Because of the epidemic, my mum and I have been imprisoned in the hometown for more than 4 months, I created works in a very free form though it was extremely unfree at that time, that is carrying anything that I can carry on my barehead, then taking a picture of the moment with my phone. These photography were showed in the exhibition and attracted widespread praise. Without showing hall, I try to assume that my head be my hall and my gallery to show my relationship and concern with this uncertaion epidemic era.