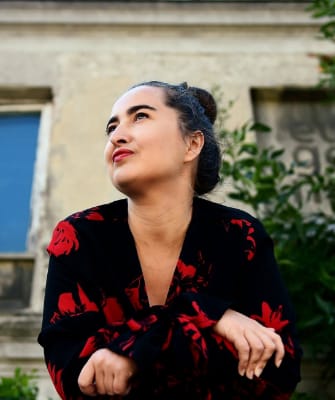 Anka Lesniak
The theme of Gangwon Triennale 2021 is 'Warm Revitalization'. If there is any part of your participated artwork that fits these themes, please explain in detail focusing on your artwork.

In my video performance, I am focusing on a very simple and necessary activity of everyday life like the meal. In the time of consumerism, we do not think much about the symbols and rituals related to food. We just consume. I refer to the meaning of the apple in culture and associations that this fruit evokes. I eat an apple in many ways and through this action I want to draw the viewer's attention to the sense of taste considered for centuries in Western culture as inferior in comparison to the sense of sight and hearing.

Today, when non-face-to-face has become common due to COVID-19, the reality is that exhibition activities are greatly reduced. What kind of artistic activities have you been engaged in under these circumstances?

The exhibitions and possibilities of meetings of artists from distant countries have been unfortunately very much reduced and limited. However, it was possible for me to continue the projects with other artists, which I had begun before the pandemic. We managed to reformulate them. The projects become more processual and based on 'extended' artistic dialogue through working together online, despite the distance and isolation. But in my opinion such a way of working may be applied only for sometime. It can't replace the social sphere and face to face meetings that are very important for developing the collaboration and exchanging ideas.